Expert Stump Removal – Safe & Effective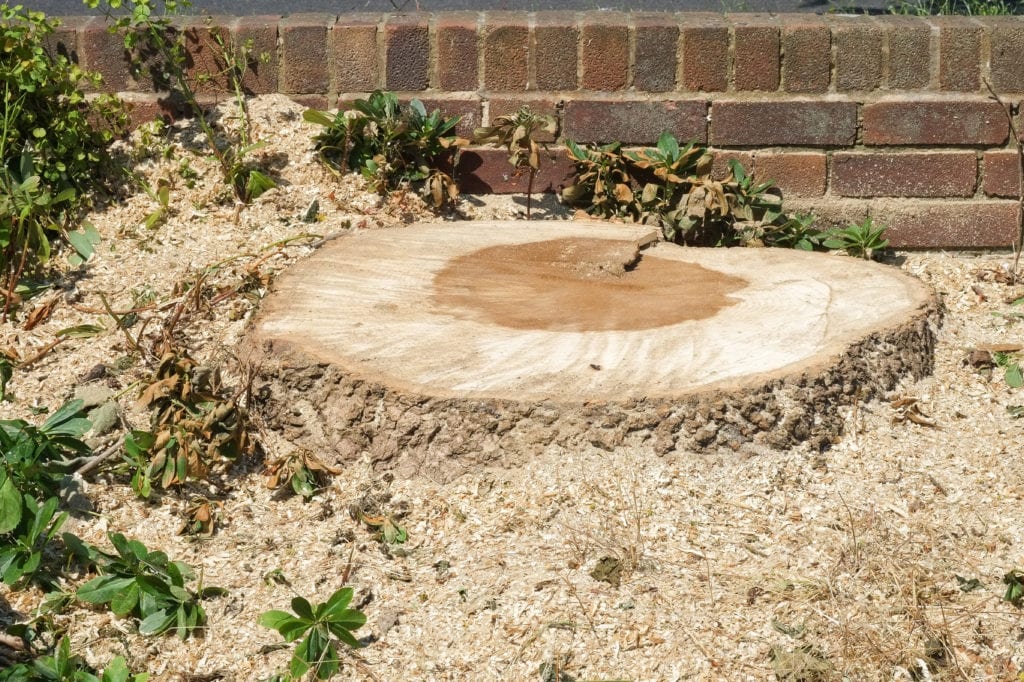 It doesn't matter how big or small the stump is, PC Tree Removal Melbourne Services has the skills, expertise and equipment to remove it. Our tree stump removal services are perfect if you've got a tree stump lingering in the way. Whether it's a stump that has been in the way for some time, or it is the remnants of a freshly chopped tree, we'll get rid of it.
For Melbourne's most effective and reliable stump removal, contact PC Tree Services on 03 9720 7740 or enquire online and we'll get back to you.
Stump Removal Melbourne: Why Tree Stumps and Roots Have to Go
As our clients can attest to, we at PC Tree Services consider tree removal to be a last-resort approach to tree management. However, we also understand that it's the most pragmatic step to take in many situations, particularly when the tree is diseased and dying or when a tree poses a risk to both people and property.
The stump that is leftover from the removal of a tree represents another set of issues that property owners also have to deal with. Here are just some of the main reasons why removing tree stumps and the attached root system underneath is necessary:
For aesthetic purposes. Tree stumps are often unsightly eyesores that affect the overall beauty of a property. Removing it can help make your garden or yard look more appealing instantly.
To make new landscaping possible. In many cases, the only way to improve a property's appeal is to implement changes in its landscape design. Removing tree stumps is often necessary to make way for such new landscaping plans because they can hinder the modification process.
To deter pests from making a home in the property. Dead tree stumps are known to attract pests such as termites, which are the last thing any property owner would want to deal with. Therefore, particularly for those larger stumps, it's often the safest option to have them removed.
To prevent the tree root system from causing damage. You may be unfortunate enough to have a tree's root system damage vital underground services, such as those that are connected to your property's electrical or plumbing systems. Removing the problem stumps and roots allows repairmen to access these damaged components while also preventing more damage from happening in the future.
PC Tree Services is home to expert tree stump removers who will be more than happy to help you clear your property of these tricky obstacles. Read on to find out more about what you can expect when you hire us to do the job.
Tree Stump Grinding: One of the Best Way to Stump Removal Melbourne
Removing stumps is almost impossible to achieve without the right equipment and expertise. Many Melbourne property owners have surely tried to dig or chop out tree stumps, and it probably didn't take long for them to realise that no amount of elbow grease was going to make the stump budge one bit. After all, root systems go all the way down. The root ball could grow so large that they could end up becoming bigger than the tree itself.
Root-Balling
In some cases, property owners choose to have the tree's entire root ball removed altogether. However, considering the size and structure of many tree root systems, this often means root-balling the entirety of the root network, which would leave a huge hole in the ground. It's a difficult, lengthy, and potentially costly process that is not recommended by most stump removal professionals.
Stump Grinding
Thankfully, there is a better way! At PC Tree Services, we specialise in stump removal Melbourne through a process known as stump grinding, which involves the use of a machine called a stump grinder. This power tool slowly chips away at the stump and grounds it into smaller pieces, relieving you of the task of having to do it manually. These grindings can even be turned into mulch, which can be helpful in improving the fertility of the soil, in conserving soil moisture and in reducing the growth of weeds in your property.
Our arborists and landscapers also use a variety of stump grinders to suit different applications. We have tight-access stump grinders that are capable of removing stumps situated along narrow paths or openings. We also have big-horsepower stump grinders for those large, menacing stumps or those exposed root balls that sometimes appear when trees are uprooted by storms.
Whatever your stump removal demands maybe, PC Tree Services is ready to tackle them head-on today! To find out more about our tree stump removal services, get in touch with us now. Call 03 9720 7740, or drop us a message on our contact page.